First broadcast in 1979 "Minder" became one of the most successful television programmes of the 1980's. It centred on two main characters, Arthur Daley (George Cole), a wheeler dealer car salesman who was into anything as long as it would make him money and Terry McCann (Dennis Waterman) an ex boxer who was now working as Arthur's minder after being released from prison. The term "minder" is in my opinion a bodyguard / bouncer, someone that will use their fists to protect the person or property that he is minding. Other characters included Dave Harris the barman at Terry and Arthur's local watering hole the Winchester Club, "Cheerful Charlie" Chisholm and D.I Rycott who were local police inspectors who knew Arthur and Terry were into "dodgy" dealing but could never quite pin any crimes on them much to Chisholm and Rycott's dismay. Minder had a very catchy theme tune called "I could be so good for you" which was written and sung by Dennis Waterman.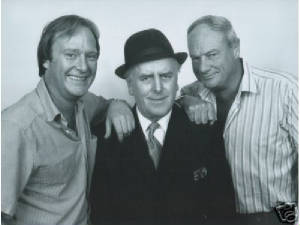 After seven series, 10 years and 72 incredibly successful episodes Dennis Waterman left the series to work on other projects and it seemed as if it was the end of Minder. However in 1991 work began on series eight of Minder and in the first episode we learn that Terry has emigrated to Australia leaving Arthur without his minder to protect him from local hard-men and low-life. Enter Ray Daley (Gary Webster), nephew of Arthur employed to clean the cars on the lot and look after the lock-up but after a punch up in the Winchester Club Ray is proved to be a worthy successor to Terry's old Job. By now Chisholm and Rycott had taken early retirement from the police force after suffering nervous breakdowns and D.I.Morley took on the task of trying to get Arthur locked-up.
Three more series were made until Arthur finally hung up his sheepskin coat and trilby hat in 1994. In the final episode Arthur, Ray and Dave are escorted away in the back of a Police van after harboring a fugitive. The final closing credits end with Arthur making a speech in the police van about the exploitation of the honest businessman.
More information on Minder is available on the excellent Unofficial Fans of Minder website, just follow the link...........